Proposal for a Post-Doc within our partner laboratories LSPM (Sorbonne Paris Nord) and ITODYS (Université Paris Cité) on the Elaboration of recycled plastic permanent magnets with end of life magnetic particles by 3D printing.
Duration: 1 year
Starting date: January 2023
Send your application before December 10th 2022.
Description:
This project aims at developing new magnets with low environmental impact through the valorization of permanent magnet particles recycled from end-of-life (EoL) products. 
These new materials – also known as recycled plastic magnets (RPM) – will be engineered through the extrusion under magnetic field of NdFeB EoL particle composites dispersed in a thermoplastic polymer matrix (ideally bio-sourced). 
The investigation is divided in two main fronts: 
Optimization of the particle composites (surface engineering, polymer affinity,volume fraction,  mechanical and magnetic properties);

Optimization of the FDM parameters under field to produce directionally functional RPMs (evaluated by measuring magnetization, density, mechanical strength, plus materials characterizations).
Profile requirements:
Strong background in Materials Science (skills and interest points: composite chemistry, magnetism, solid mechanics, experimental work, physico-chemical characterization of solid materials). 

Proficiency in English (for discussing with industrial partners).

Autonomy, organization, good synthesis and analysis skills.

Knowledge in plastic extrusion techniques and 3D printing will be appreciated.
Contact information:
S. Barboura (LSPM-UPR CNRS 3407): salma.barboura@univ-paris13.fr;
S. Ammar-Merah (ITODYS-UMR7086): souad.ammar-merah@u-paris.fr. 
Application : CV + motivation letter + recommendations. To send to both email addresses above (deadline December 10th 2022).
For more information download the PDF of the offer PDF of the offer or reach out via the email addresses above.
Position duration (months)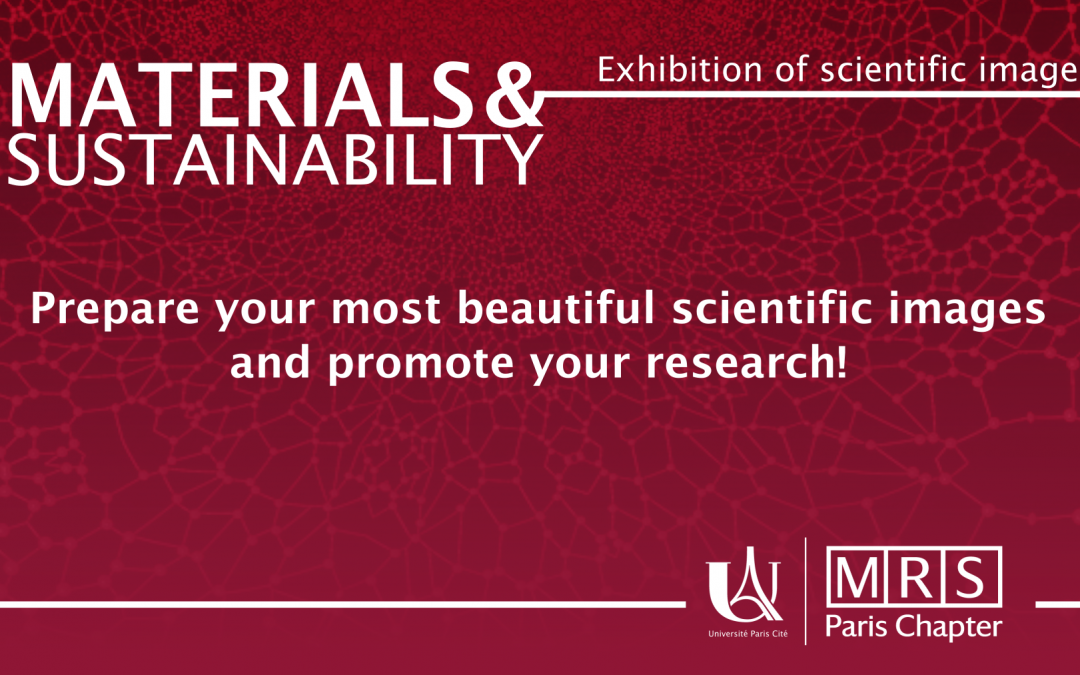 The MRS/E-MRS Paris Chapter organizes its first exhibition of scientific images: Materials & Sustainability. Exhibition Materials & Sustainability Participate in the first exhibition of scientific images organized by the MRS/E-MRS Paris Chapter,...