At the initiative of a group of students specializing in materials science, Université Paris Cité has obtained recognition from international learned societies: the Materials Research Society and the European – Materials Research Society. By constituting the first "MRS University Chapter" in France, Université Paris Cité, through its Faculty of Sciences, intends to highlight the excellence of its research and training in materials science.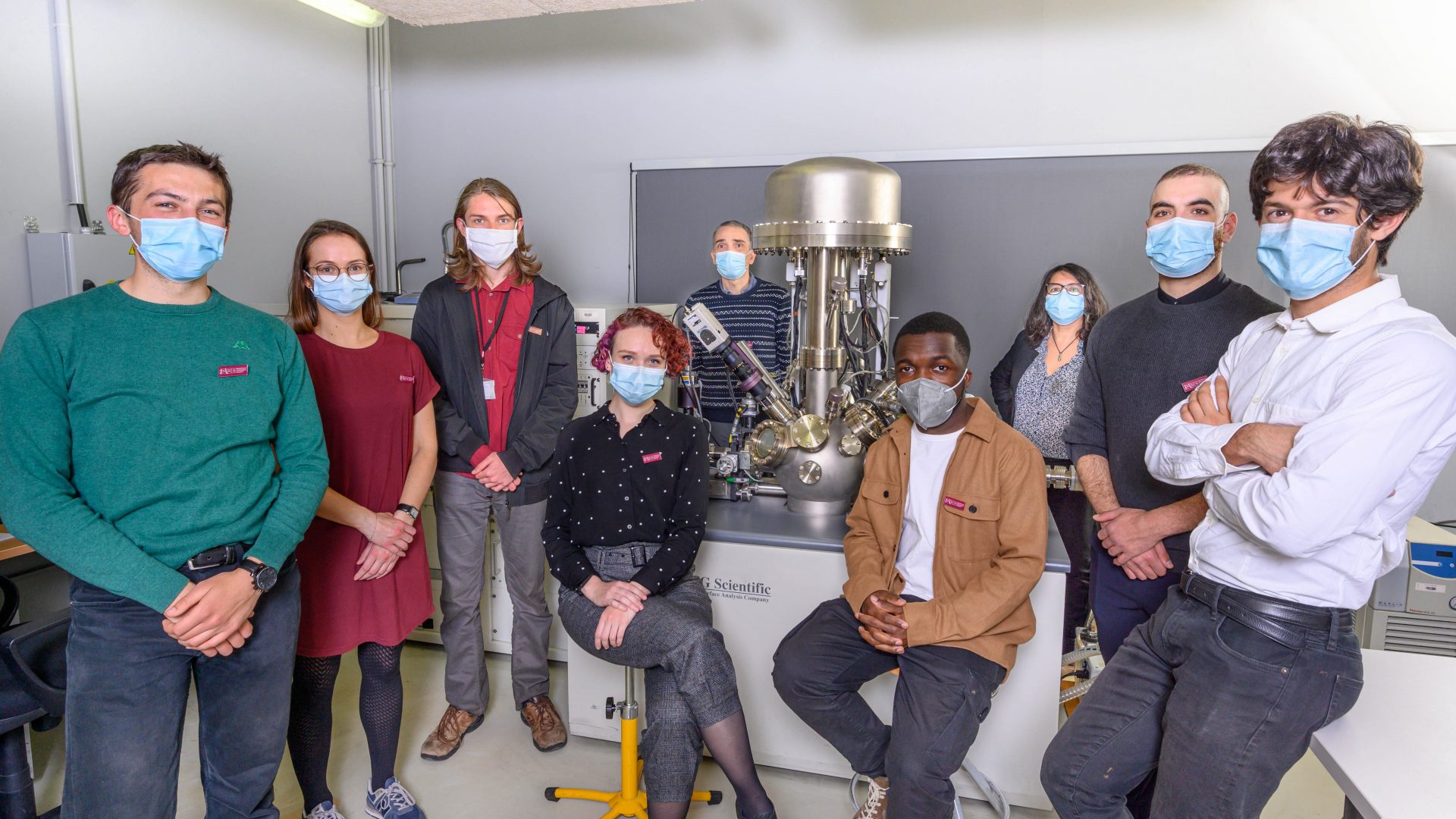 Founder team
From the left to the right:
Louka YILMAZ Treasurer, Marie-Charlotte DRAGASSI Industry Liaison, Maxence VANSEVEREN LEROY Secretary-General, Larissa CHAPERMAN Vice-President, Pr. Christian RICOLLEAU Faculty Advisor, Christophe-Landry TIANI President, Pr. Souad AMMAR MERAH Faculty Advisor, Hakim DJEDID Communication Manager, Raphaël HANEMIAN Event Manager.
The Materials Research Society (MRS) is a recognized organization focused on the advancement of interdisciplinary materials research established in 1973, gathering over 11.500 members from academia, industry and government, spanning over 90 countries.
The European Materials Research Society (E-MRS) was founded in 1983, and has currently more than 4.000 members engaged in promoting debates around recent technological developments of functional materials, exchanging information and awarding exceptional achievements on all levels from student to senior scientist.
Within both societies, researchers hailing from all domains that constitute materials research (physics, chemistry, biology, mathematics, engineering) find a stimulating environment for collaboration and open exchange of ideas.
Among the actions undertaken by the MRS, the University Chapters Program promotes international cooperation and the formation of networks between the students of the most renowned universities across the globe. This allows the next generation of material scientists to partake into the community from the earliest stages of their formations.
Founded in 2021, the Paris MRS Chapter, at Université Paris Cité, is the first University Chapter in France jointly recognized by the MRS and the E-MRS. 
We strongly believe that for true advancement of society we need not only high-quality interdisciplinary research; but also, an efficient communication and a true engagement of the researchers in giving back to society and in applying their knowledge towards building a better and more sustainable future for all.
To achieve these goals, we are engaged in organizing diverse actions on short-, medium- and long-term, targeting multiple audiences at local, national and international levels. Such actions can take the form of scientific conferences, organization of summer schools and similar events, interventions at schools within the Parisian region, sessions of science communication, in addition to events organized in partnership with other MRS Chapters.
The Paris MRS Chapter is constituted by graduate and undergraduate students of Université Paris Cité and supported by our faculty advisors Souad Ammar and Christian Ricolleau. We value the plurality of ideas and backgrounds in our commission and we strongly encourage all students that share our interest in promoting materials science to reach out and join us.
For more information about our actions, follow us on social media.
Proposal for a Post-Doc within our partner laboratories LSPM (Sorbonne Paris Nord) and ITODYS (Université Paris Cité) on the Elaboration of recycled plastic permanent magnets with end of life magnetic particles by 3D printing. Duration: 1...