The healthcare systems in France and the United States are different, however, since the outbreak of the global pandemic the two countries are facing common challenges. The aging populations are increasingly being impacted, notably with regard to the quality of care provided within the context of nursing home facilities. Dr. Thomas Rapp, associate professor at Université Paris Cité specialized in health economics, hosted by professors Dr. David C. Grabowski and Dr. Anupam B. Jena, M.D, of the Department of Health Care Policy at Harvard University Medical School are tackling these issues. Together, they are conducting a comparative analysis of long term care policies in OECD countries, using global aging data.  Discover their collaboration.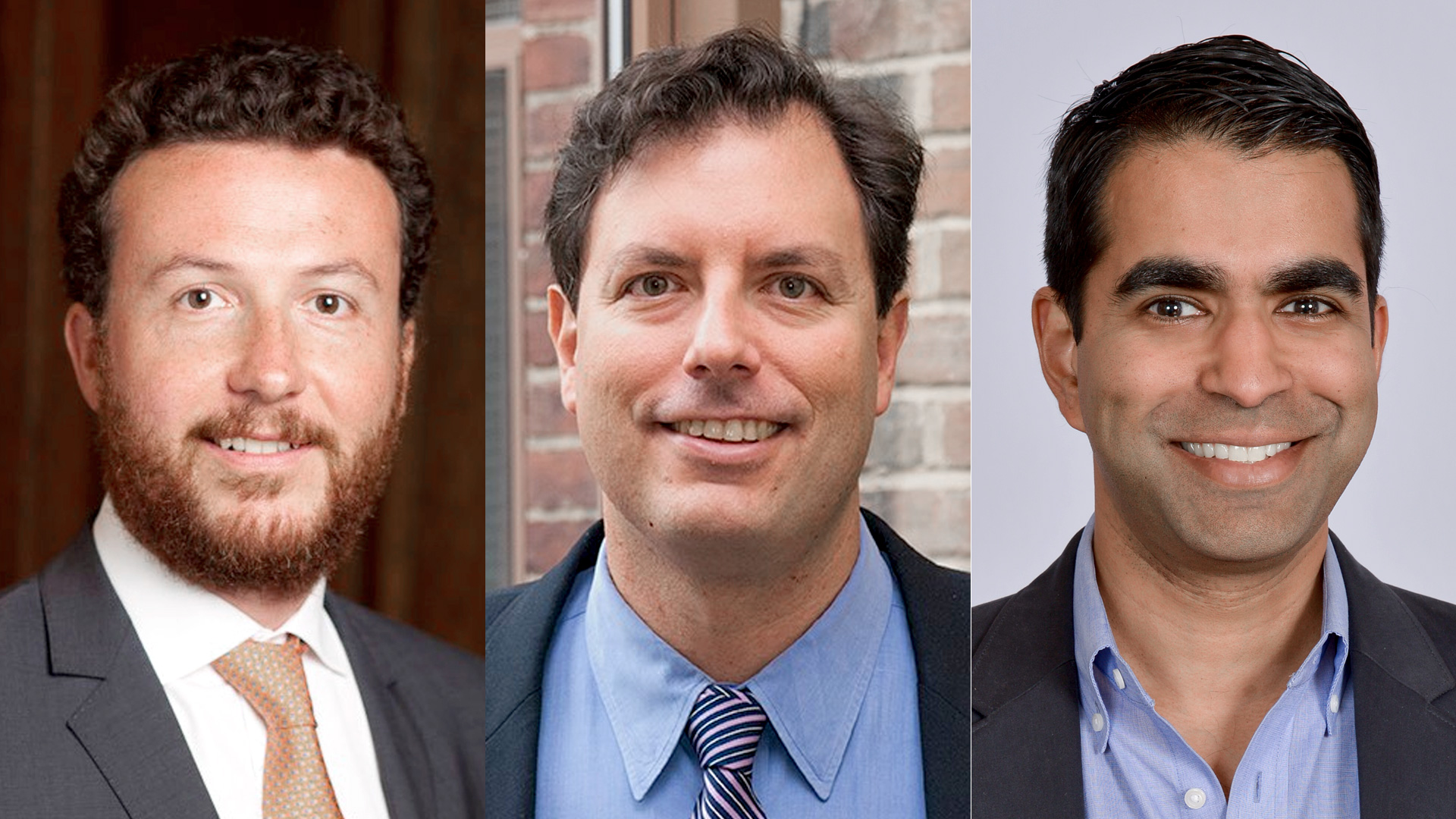 © Thomas Rapp, David C. Grabowski and Bapu Jena
Tackling Long-term care Issues
The colloborations between Dr. Thomas Rapp, Dr. David C. Grabowski and Dr. Anupam B. Jena (Bapu), are longstanding, going back to 2015 when Thomas was a Harkness fellow in health policy and practice at Harvard. David was a co-mentor during that period along with professor Katherine Swartz, PhD, at the Harvard School of Public Health, where they worked on the issues around the expansion of home community based services in the United States.
During Thomas' current visit at Harvard, the three professors will focus their analysis on long-term care, and look at important issues such as, what is the right mix of home and community based services relative to nursing home services, public versus private, formal versus family driven care. They took the time to tell us more about their collaborative research at Harvard.
What is different about this collaboration compared to your work in 2015 ?
According to Dr. David C. Grabowski, "Long term care is different from heathcare when it comes to medical care services. The United States is very much an outlier, we spend more than any other country, however when it comes to long term care, the United States is very much an inlier. The United States can learn a lot from other countries like France. When Thomas did his Harkness fellowship it was a great opportunity to work with him on issues related to the United States system but also to learn about the systems in France. David further adds, "these issues have existed for a long time, the pandemic lifted the veil on nursing home care in the United States. I think it did that internationally. Covid was challenging across all countries. It has never been so important to take on these issues. We are thrilled Thomas is here with us again."
"The nature of health policy research is basically domestic. We don't have the same opportunities as biologists, chemists and physicists have to collaborate and to get to know people internationally. That's why I think this opportunity was very valuable. I had the opportunity to visit Thomas a couple years ago in Paris, our families have also met. There are personal aspects that are very valuable as well." states Dr. Anupam B. Jena, M.D.
Was Covid a "wake-up call" for healthcare systems, what can we learn from it ?
The pandemic put a strain on the healthcare systems in both countries, and according to Dr. Thomas Rapp, "We realized we have staffing issues in nursing homes and the care provided to elderly people may not be high value care. Recent controversies in the French nursing home systems revealed the need to evaluate the quality of the care provided. It is a good time to explore the issues and to make global comparaisons. The United States has been providing information on the quality of nursing homes for a long time, they have a star rating system, although not perfect, it provides insight. We can learn from these initiatives and see what we could implement."
Opportunities on both sides of the Atlantic
For Dr. David C. Grabowski, "French data is quite different from what is produced in the United States bringing interesting cross country learning opportunities and a window in terms of a production of quality. It comes at an important time in the United States, where the government has recently put forward a call for a staffing mandate with a minimum threshold for nursing home facilities. There is a real challenge in the United States around staffing in nursing homes, hence, there is a real opportunity to learn from other countries like France." 
Thomas Rapp further adds, "During the pandemic, in France, we were also struggling with the same issues with regard to the working conditions in nursing homes. During a mission I did at the OECD, we realized that many countries have similar concerns and the actions could be aggregated into a strategy to increase the long-term care workforce. From the U.S, we can learn from the initatives related to measurement of the quality of care, making sure the funds are spent on high value care and the capacity to provide data."
Do you have any anecdote to share while collaborating together ?
Thomas and David realized that Thomas' former postdoctoral mentor at the University of Maryland, professor C. Daniel Mullins, PhD, was a former mentee of David's father who is well-known health economist. It was a funny that Thomas became during his Harkness fellowship at Harvard David's mentee and was also former mentee of David's father. "It is small world, and things come full circle. It was a funny connection to make." says Dr. David C. Grabowski.
The Next Steps  
The three researchers are currently working on two co-authored peer-reviewed publications. The first article will focus on the impact of staffing issues in nursing homes and the care pathway using French data. The plan is to use data from the United States for comparison purposes.
The second article will also include professor Joan Costa-i-Font, PhD from the London School of Economics. It will explore the impact of family policies on the long-term care arrangements and choices made by family members, using a global aging survey to explore generosity levels in countries, comparing policies and long-term care arrangements within families. It will include insight into how social capital influences the long-term care decisions for aging persons. According to Dr. Anupam B. Jena, M.D., "The social dynamics plays an important part in these studies, we also look at what is the impact on the families, that is harder to study, but there may be other effects on the family when parents go into nursing homes versus staying at home."
Preliminary analysis reveals that countries who are more generous are those where the use of professional care within families is higher and the use of nursing home care is lower. Based on the findings and if significant results are revealed, recommendations could be made to contribute to the policy and public debates on these issues.
David and Bapu plan to come to Université Paris Cité for a workshop either in the next fall or spring semester, which will be organized by Thomas Rapp. This collaboration should also lead to future graduate student exchanges between Université Paris Cité and Harvard.
"We will continue the three of us to collaborate, but also our colleagues, our fellows and our mentees as well. This is such a unique opportunity but also really important", concludes Dr. David C. Grabowski
About
Thomas Rapp, PhD is an associate professor in economics at Université Paris Cité, and the co-director of the health policy research program at Sciences Po Paris. He is specialized in health economics, aging economics, and health policy analysis. He is a former Harkness fellow in health policy and practice at Harvard (2015-2016) and a former OECD health economist (2017-2019). He has published over 50 articles, including publications in leading peer-reviewed scientific journals. Since 2016, he has been associate editor of the Value in Health Journal. For the past 10 years, he has been participating in 9 research grants (sponsored by the French Agence Nationale de la Recherche, the Commonwealth Fund of New York, the European Commission's Innovative Medicines Initiative program etc.) as principal investigator, co-PI, or work package leader.

David C. Grabowski, PhD, is a professor of health care policy in the Department of Health Care Policy at Harvard Medical School. His research examines the economics of aging with a particular interest in the areas of long-term care and post-acute care.  He has published over 200 peer-reviewed articles, and his work has appeared in leading peer-reviewed journals of economics, health policy, and medicine, including the Review of Economics & Statistics, Health Affairs, the Journal of Health Economics, and the New England Journal of Medicine. His work has been featured by prominent popular press outlets, such as the Wall Street Journal, National Public Radio, Washington Post, and New York Times.

Anupam B. Jena, MD, PhD, is the Ruth L. Newhouse Professor of Health Care Policy at Harvard Medical School and a physician in the Department of Medicine at Massachusetts General Hospital in Boston, Massassuchetts. He is also a faculty research fellow at the National Bureau of Economic Research. As an economist and physician, Dr. Jena's research involves several areas of health economics and policy including the use of natural experiments in health care, the economics of physician behavior and the physician workforce, medical malpractice, the economics of health care productivity, and the economics of medical innovation. He is the host of the Freakonomics, MD podcast, which explores the "hidden side of health care."
At the General Assembly held on November 18th 2022 at Université Paris Cité, Vincent Blondel, Rector of the University of Louvain, was elected as new President of Circle U. Succeeding Svein Stølen, Rector of the University of Oslo, he will steer the strategic...
read more