Circle U. European University Alliance
The European University Circle U. brings together the universities of Oslo, Paris, Aarhus, Pisa, Vienna, Humboldt in Berlin, Belgrade, King's College London and Université catholique de Louvain. The "European Universities" initiative, which promotes cutting-edge research and teaching in Europe, is supported by the European Commission and the Investment for the Future Programme in France.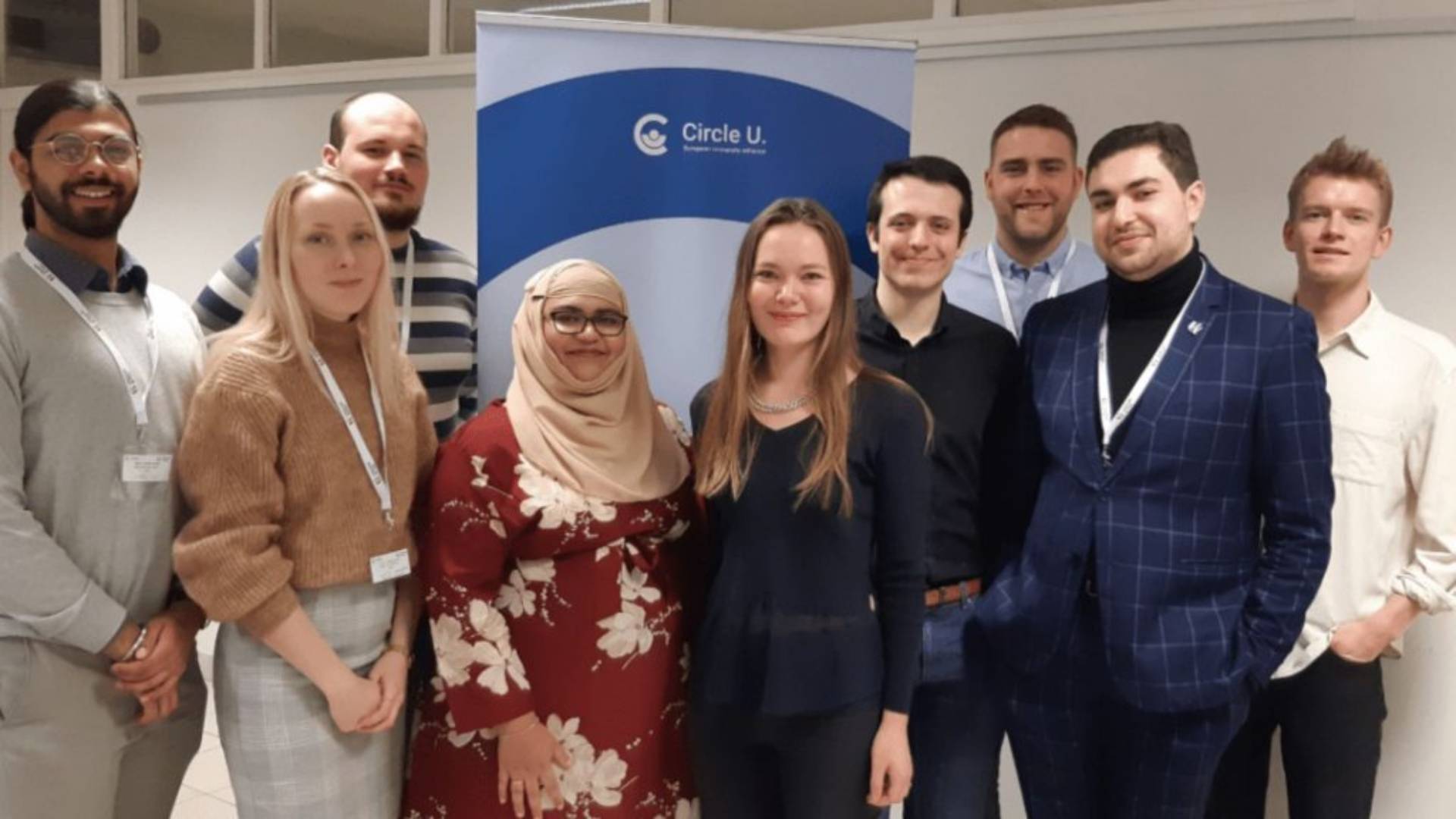 Student representatives of the Circle U. Student Union (CUSU) at the Circle U. seminar at Université Paris Cité in March 2020.
Circle U. brings together research-intensive, multidisciplinary and internationally-oriented universities, situated for the majority of them in the main capitals of Europe: Paris, Brussels, Berlin, and London. The University of Belgrade, the largest and oldest university in Serbia is also the most renowned in South-East Europe. Finally, two Scandinavian universities with an outstanding reputation for innovation complete this group of universities of excellence.
The alliance represents 474,000 students, 64,000 staff and more than 20 Nobel Prize winners. Our students, teachers, researchers and administrative staff are building an inclusive project. The ambition is to make possible an 'Education Schengen' for an easier access to courses, programs, infrastructures and resources of all member universities of the alliance with a significant increase in students' international exposure, through physical and virtual mobility.
Since 1 September 2021, Circle U. has also been the winner of a call for projects from the H2020 programme aimed at developing research and innovation collaboration within the alliance, Circle U. ERIA (Empowering Research and Innovation Actions in Circle U.).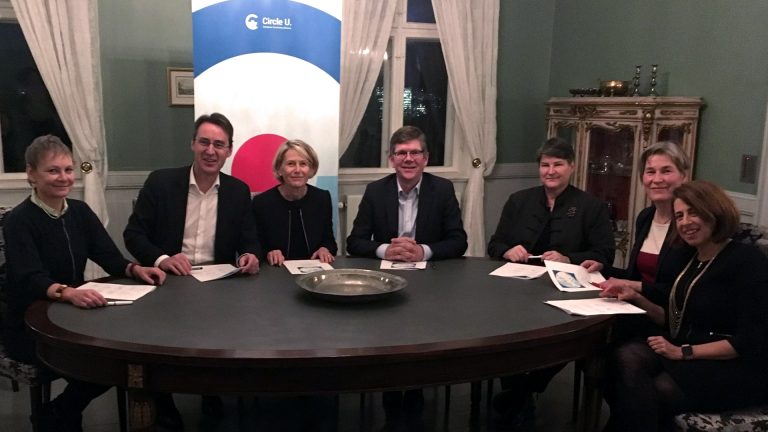 Oslo, December 2019, from left to right :
Sabine Kunst, President University Humboldt of Berlin, Vincent Blondel, Rector University of Louvain, Christine Clerici, President Université Paris Cité, Svein Stølen, Rector University of Oslo, Ivanka Popović, Rector University of Belgrade, Berit Eika, Pro-rector of University of Aarhus, Tania Lima, Director of Global Engagement du King's College London
Our partners
Associated partners
A central part of the Circle U. project is to engage in a dialogue with society outside the walls of the university. 34 partners representing local authorities, companies and civil society organisations have committed to playing an active role in various Circle U. activities, thus contributing to the success of the alliance.
In France, these associated partners are:
The Medicen cluster in health innovation
Paris City Council
Ile-de-France Region
APHP Paris-Centre and APHP Paris-Nord
For more information on Circle U's 34 associate partners 
History
Following Emmanuel Macron's speech at the Sorbonne in 2017 calling for the creation of European universities, the European Commission has launched an initiative in 2019 and 2020 to fund 41 European alliances under the Erasmus+ programme and the H2020 programme. Université Paris Cité is supported by the Programme d'Investissements d'Avenir (PIA) for its participation in Circle U.
European universities are transnational alliances, key pillars of the European Education and Research Area, which promote European values and identity and aim to significantly enhance the quality and attractiveness of European higher education and research.
Climate, Democracy and Global Health, 3 key themes
The sustainability of our societies, from an ecological, political, social and economic point of view, is at the heart of the Circle U project.
Three Knowledge Hubs will be set up over the period 2020-2023:
Climate
Democracy
Global Health
These three thematic priorities have been built around the Sustainable Development Goals (SDGs).
The Knowledge Hubs are spaces that bring together students, teacher-researchers and external partners around interdisciplinary themes.  They are the framework in which courses, summer schools and degree programmes in Circle U will be developed. They will also lay the foundations for a common scientific programme for Circle U.
The creation of an Open School of Public Governance at the confluence of the 3 Knowledge Hubs is planned for 2023.
A joint course catalogue showcasing courses offered by the universities of Circle U. in the 3 Knowledge Hubs is now available online.
Transforming European Higher Education
Increasing the international exposure of students, faculty and staff
Some targets for 2023: 
The number of students in mobility within Circle U. has doubled
10,000 students participate in the virtual mobility offered by Circle U.
At least 15 courses have been co-developed by the partners
The mobility of administrative staff has tripled
Distance and Blended learning
The increase in mobility planned by Circle U. involves an increase in virtual mobility and therefore extensive use of e-learning to bring together students from different countries and the pooling of online teaching resources.
A taskforce on Blended Learning is coordinated by Université Paris Cité.
Think and Do tank on the future of higher education
Université Paris Cité is coordinating the setting up of a Think and Do tank on the future of higher education within Circle U. Its objectives will be to :
foster a quality learning environment
imagine and experiment new teaching and learning method
leverage policy in the  European Higher Education Area (EEA
Its recommendations will be widely disseminated and will feed into the activities we will implement in the framework of our alliance. Multilingualism will be a particular focus within the Think and Do tank.
The Think and Do Tank is based on the work of 7 Chairs from the 7 Circle U universities. The participation of professors and students will be a central point, and the Chairs of the Think and Do Tank will have to involve them.
Challenge-based learning and and student entrepreneurship
An online programme on sustainable innovation and entrepreneurship will be developed by the 7 Circle U. Chairs of the Student led sustainable innovation network.
Circle U. Challenges will be organised on societal challenges posed by the Circle U. associate partners. Interdisciplinary and international teams of students will solve these challenges accompanied by their professors and in conjunction with Circle U. partners.
A network of female student entrepreneurs in Circle U. will be set up to encourage the feminisation of this field of activity.
ERIA: research cooperation, coordinated by Université Paris Cité
In February 2021, the Circle U. alliance was awarded a project funded by H2020 (the SwafS action – Science with and for society) and coordinated by Université Paris Cité. This project called ERIA "Empowering Research and Innovation Action in Circle U." aims to strengthen research and innovation collaboration within the alliance with 7 objectives :
Encourage interdisciplinarity in research and innovation activities
Encourage the co-construction of solutions with extra-academic partners
Make research more accessible to citizens
Enhance the careers of young researchers
Increase the international exposure of young researchers
Promote the EU's objectives in terms of gender equality in research and innovation
To participate in the structuring of the European Research Area, through strong collaboration with other alliances
 The ERIA project is officially launched on 1st September 2021 for a 3-year pilot phase.
InnovEd4TS Strategic Partnership: focus on students' transferable skills
Educational innovation already links Circle U. partners within the InnovEd4TS (Innovative Education For Transferable Skills) project, funded by Erasmus+ and focused on students' transferable skills. Many Université Paris Cité lecturers participated in the virtual visits organised during the first phase of this project in 2021. Université Paris Cité hosted 2 visits. 
For more information on InnovEd4TS
Circle U. team at Université Paris Cité
The Chairs
Global Health Chair
Prof. Jean-Philippe Empana
Democracy Chair
Prof. Jan Spurk 
Chair Climate
Prof. Alexandre Gélabert
Chair Think and Do Tank on the future of higher education
Prof. Grégoire Borst
Chair Open School of Public Governance
Prof. Federico Tarragoni
Referents in the working groups
In the 12 Circle U. working groups, 15 professors and researchers from Université Paris Cité and 6 administrative staff are involved in offering their expertise, representing Université Paris Cité, involving their respective communities, and co-constructing Circle U. with our partners.
Contact : circleu.iro@u-paris.fr
Students in Circle U. Student Union
Two students represent Université Paris Cité in the Circle U. Student Union. (Circle U. Student Union – CUSU).
Contact : circleustudentunion@studentparlamentet.uio.no
The Strategy and International Relations Department
A team of 4 people are working on the Circle U. project within the Strategy and International Relations Department.
Contact : circleu.iro@u-paris.fr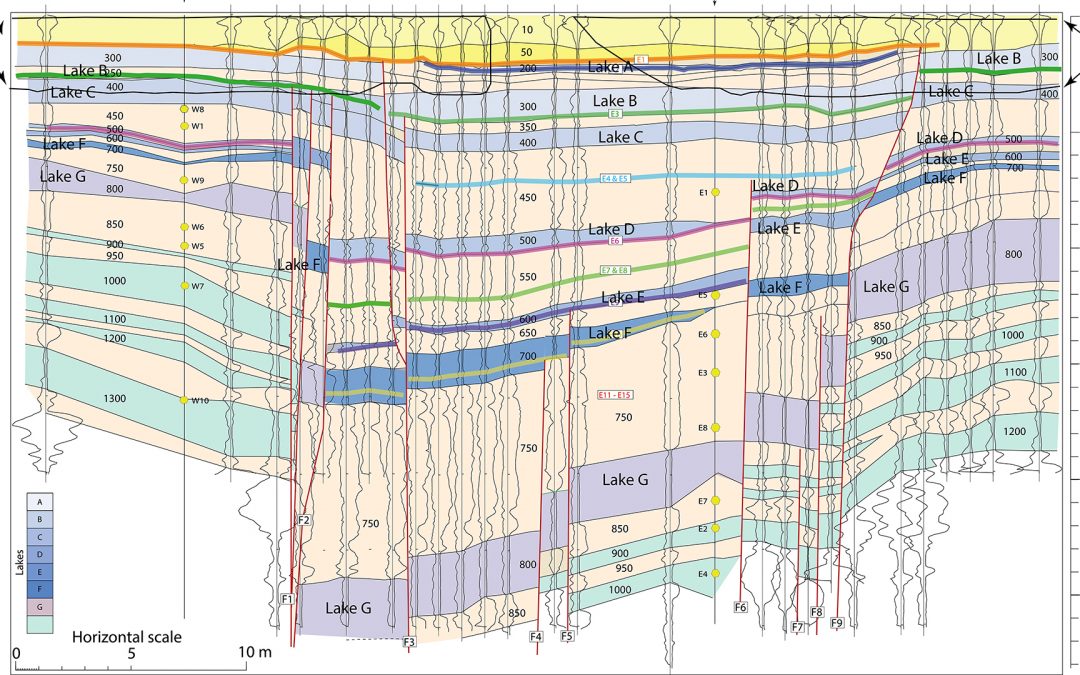 Using a technique traditionally used in civil engineering, two seismologists, including Yann Klinger, a researcher at the Institut de Physique du Globe de Paris, have highlighted the stratigraphic succession of major earthquakes over the past 2,000 years south of the...