Since September 2020, Université Paris Cité has a new professional integration support centre, in partnership with JobTeaser.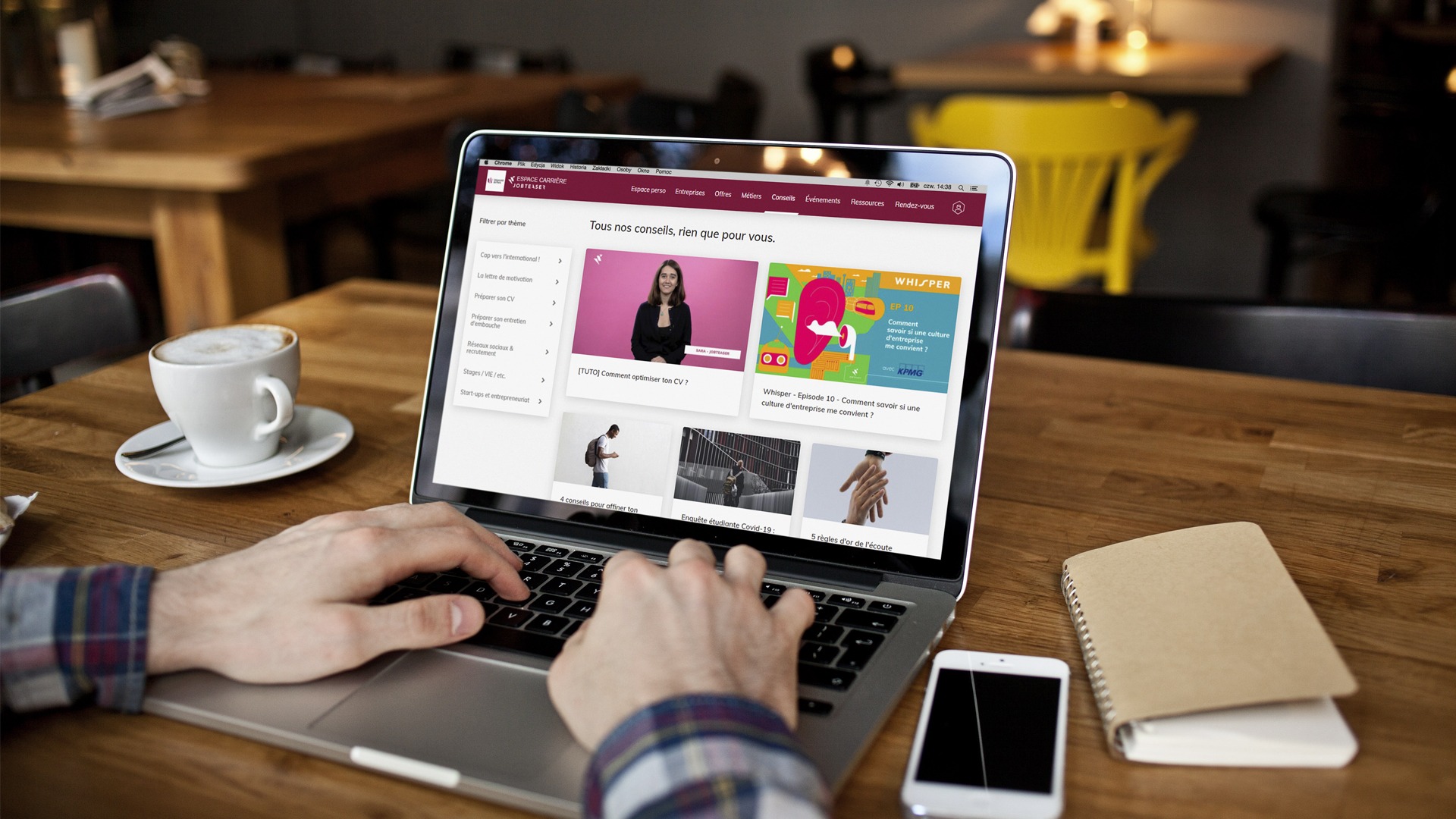 In the Careers Centre, you will be able to find:
Internship and job offers
Recruitment events
Business videos
Advice & Guidance
This professional integration support centre enables Université Paris Cité students to map out their career development goals more clearly and support them to find internships, student jobs or work-based training contracts.
Once they have registered, each student has access to:
opportunities for missions in line with the courses offered by Université Paris Cité
calendar for booking activities offered by the POP throughout the year: workshops, forums, conferences…
professional integration documentation, selected by the professional integration and guidance professionals from the POP (Resources module in the Careers Space).
I unable to register on the Career Centre platform
Access to the Career Centre is subject to authentication, and you will need to enter your University email address with the following format: firstname.surname@etu.u-paris.fr.
If the problem persists, please contact espace.carriere@u-paris.fr, indicating the email address that you used when you attempted to register for the platform.
I do not know which "programme" to choose when registering on the Careers Centre
A programme corresponds to each level and each area of study.
If you have any doubts, refer to the Université Paris Cité course catalogue
Select "Other" for any programme that is not included in the list.
Students registered with PASS: please select "Bachelors – Health".
I have not received a confirmation email indicating that my account has been created
The confirmation email may be transferred to your spam folder.
If after checking, you have not received any confirmation email, you can ask to receive another one.
To do so:
Go to the platform
click on "Forgot password" 
click on "Request a new validation email".
You will be sent a new account confirmation via email.
I have created my account, but I can no longer connect to the Careers Centre
There are two possible reasons for this issue:
either you are not using the correct link to connect to the platform
or the login details that you are entering are incorrect
For reference: The link to the Université Paris Cité platform is here.
If you cannot remember which email address you used to register for the Careers Space, write to espace.carriere@u-paris.fr so that we can provide you with it again.
I lost my password
Go to the platform
Click on "Forgot password"
Enter your email address to receive a message to reset your password
Setting up an appointment with an adviser
How can I make an appointment with an adviser through the Careers Centre ?
With the "Appointments" module, you can make an appointment with one of Université Paris Cité' professional integration and guidance counsellors. To do so:
Select the type of appointment you would like*:

Professional integration interview,
Internship interview,
Collaborative space (book a meeting room).

Click on "Search" to access the list of advisers concerned with their presentation, contact email and availabilities
Click on the day and time that you would like to book
Indicate why you are requesting an appointment
If necessary, include any relevant documents (e.g. CV, cover letter, etc.).

* This list will be added to over time.
For any other questions, please do not hesitate to contact espace.carriere@u-paris.fr
Contacts
POP Professional Development and Guidance Centre
Professional Networks and Careers Office
Grands Moulins Campus
Bâtiment des Grands Moulins – Wing C – Ground floor
espace.carriere@u-paris.fr
Learn more :
The first edition of the International Days was held on October 13th and 14th. Dedicated to discovery, openness, sharing experiences and inclusion, this event triggered bonding and friendships among students. International days brings together : - 30 Nationalities...