In the framework of Université Paris Cité – National University of Singapore (NUS) partnership, Carmelo Alessandro Basile, PhD mobility grant recipient is currently pursuing his PhD at our university under the supervision of Prof. Agnès Celle and Prof. Debra Ziegeler thanks to an international doctoral fellowship financed through IDEX. His research project focuses on the use of modal verbs in Singapore English. Here is his story.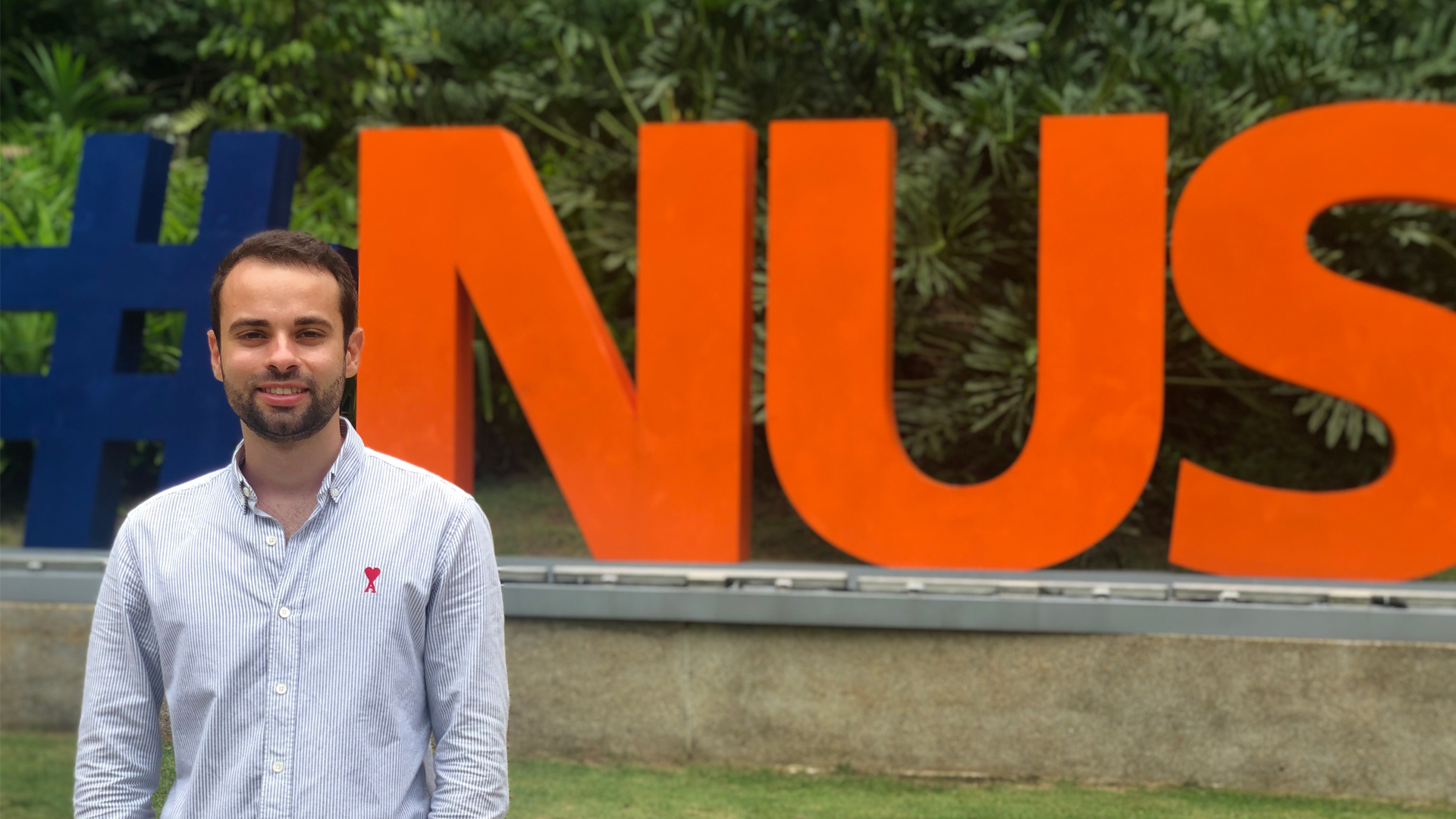 © Carmelo Alessandro Basile at NUS
In 2017, Carmelo Alessandro had the opportunity to attend a class on grammaticalization and language change, given by Professor Debra Ziegeler, at Sorbonne Nouvelle in Paris. This class inspired him, as he was able to understand some of the main mechanisms of language change over time. He learned more about post-colonial varieties of English and found the variety of English spoken in Singapore extremely interesting being spoken in such an extraordinary multilingual environment. Carmelo kept in touch with Professor Ziegeler and spent the following two years conducting research on this variety. He wrote his PhD proposal on Singapore English modals while he was teaching Italian as a language tutor at the University of Bristol in 2019. Debra Ziegeler is his currently his PhD co-supervisor along with Prof. Agnès Celle from Université Paris Cité. He learned about the Université Paris Cité-NUS programme by Dr. Mariana Losada, who manages the partnership.
Why did you decide to pursue your PhD at Université Paris Cité? 
"Université Paris Cité offers excellent opportunities for research and doctoral studies, making it one of the best and internationally-oriented laboratories for linguistics in France. I was convinced by the possibility of being supervised by Professor Agnès Celle who has worked extensively on the area of English modality. The university supported international talents more than other institutions in France, thanks to its IdEx label. IdEx is indeed financing my doctoral grant for three years." says Carmelo Alessandro Basile.
For our researcher, he was able to pursue his studies a dynamic environment, having the opportunity to join Labex EFL, i.e. "The Laboratory of Excellence – Empirical Foundations of Linguistics", which brings together researchers from different institutions by  creating a network of theoretical and applied linguistics research teams. 
Can you tell us more about your research? 
"My project focuses on the use of semi-modal verbs (e.g. must, have to, need to, will, etc.) in Singapore English, Singlish. Previous research on the topic has shown that some of these verbs may be used differently if compared with other contemporary English varieties, such as British English. I am attempting to investigate why this is the case. Are modal verbs in Singapore English only influenced by the other languages spoken on the island, and especially Mandarin Chinese? Alternatively, can these differences be explained through a reproduction of older uses of modal verbs in the history of British English, i.e. its historical ancestor? " explains Carmelo Alessandro Basile.
For Carmelo Alessandro, answering these questions is not an easy task. Yet, data analysis is a good tool to exploit. He is first conducting some semantic analysis on corpora compiled using informal Singaporean blog chats. Secondly, he is asking individuals in Singapore to complete a questionnaire meant to test their attitudes towards different modal verbs. The goal is to evaluate if these tend to vary according to some sociolinguistic criteria, such as their ethnic background and age.
How did the Paris-NUS grant contribute to your research projects?
"The grant allowed me to fund a vital step in my doctoral career. This research stay in Singapore is in fact necessary for me to familiarise myself with the culture and the linguistic environment of Singapore, to learn Mandarin Chinese, to conduct research on Singapore English "on-site", and to make the most of the uniquely Singaporean way of life. Last but not least, the mobility allows me to work closely with Prof. Bao Zhiming, one of the world-leading experts in the field I am working on." highlights Carmelo Alessandro Basile.
What advice would you give to future PhD candidates? 
 "Try to make your doctoral career as international as possible. Research is not just reading and writing – mobility is important as well. This will allow you to meet great people along the way, and especially to exchange ideas. This is the great beauty of research!" states Carmelo Alessandro Basile.
 What are your aspirations once you complete your PhD? 
 "Ideally, I would love to stay in the academic world, continuing research and teaching at a university level. This is something that I have been doing since September 2020 at Université Paris Cité, where I have been teaching some seminar classes in English grammar, phonetics, and phonology to BA students. I really enjoy teaching English linguistics to university students who have never heard before what a morpheme or a phoneme is! Who knows, maybe one day they will decide to start a PhD in English linguistics as I did!"
About NUS

The National University of Singapore (NUS) is Singapore's flagship university, which offers a global approach to education, research and entrepreneurship, with a focus on Asian perspectives and expertise. The university has 17 faculties across three campuses in Singapore, as well as 12 NUS Overseas Colleges across the world. Close to 40,000 students from 100 countries enrich their vibrant and diverse campus community.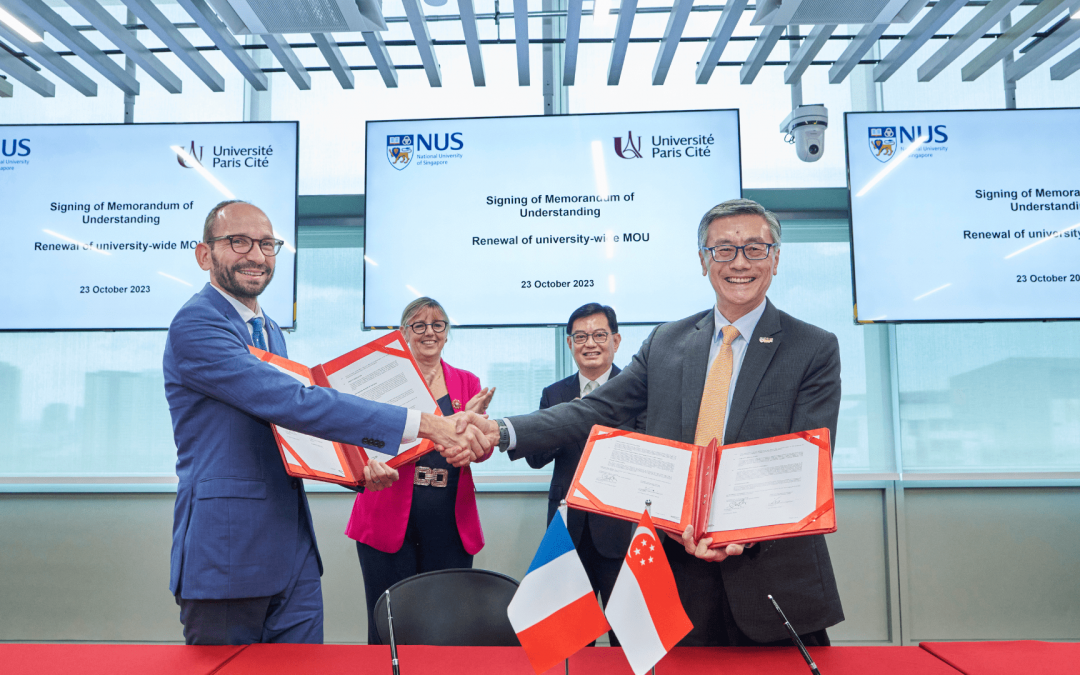 On October 23, 2023, President Édouard Kaminski and his National University of Singapore (NUS) counterpart Tan Eng Chye signed a partnership agreement to develop joint research and events in the field of women's health. Left to right: Édouard Kaminski (President...
read more