Université de Paris is presided by Christine Clerici. She was elected in June 2019 by the members of the Executive Board.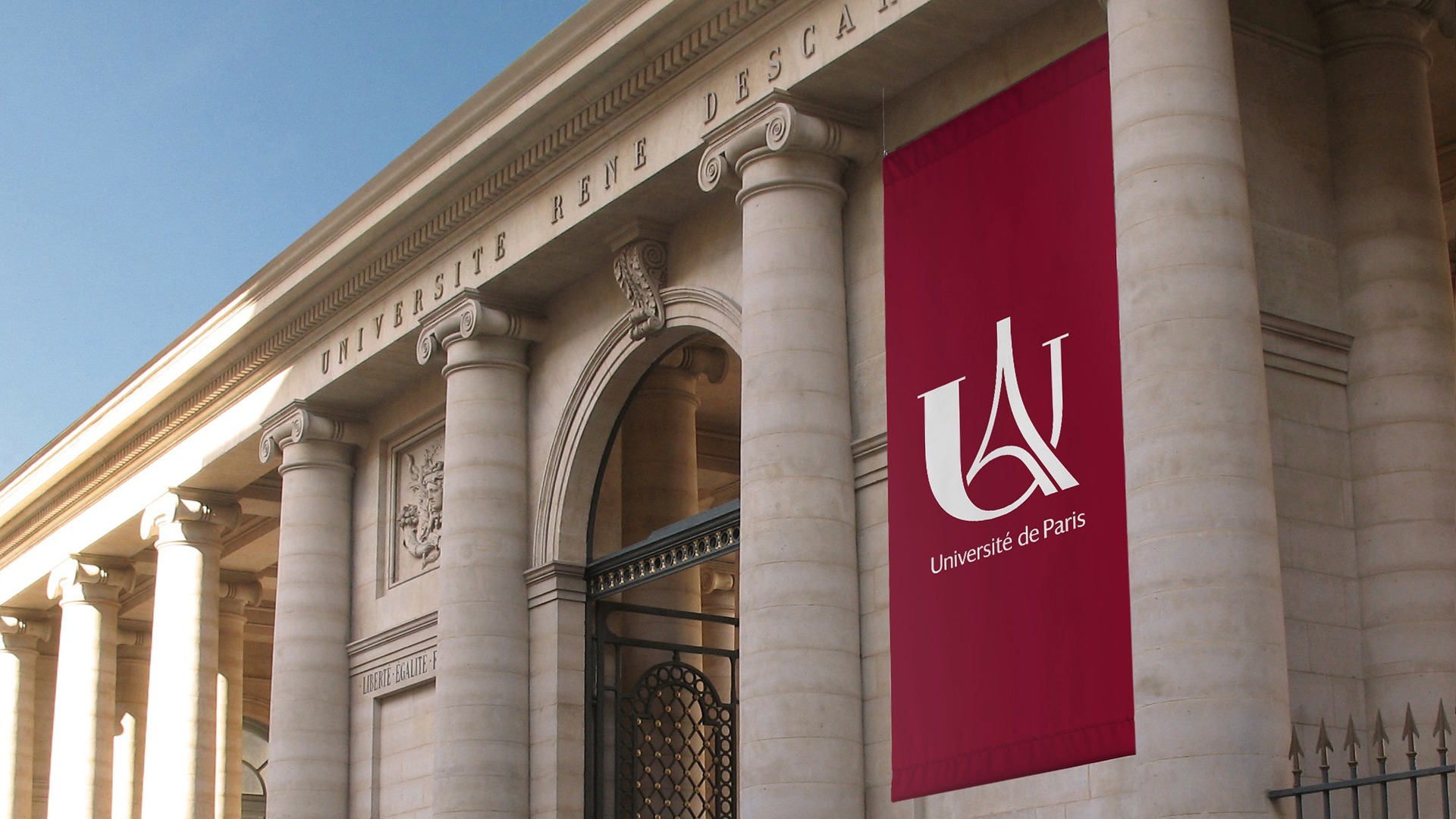 Head office
85 boulevard Saint-Germain, 75006 Paris
Christine Clerici, President Université de Paris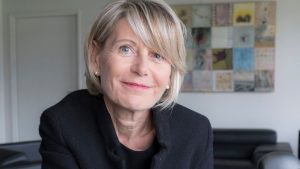 Professor of physiology since 1995, Christine Clerici joined the UFR Médecine de Paris Diderot in 2002. She is in charge of the "cell biology, physiology and pathophysiology" specialization of the master 1 "health" and the master 2 specialty "epithelia: interface structure". After a medical specialization in pneumology, she became a hospital practitioner in functional explorations.
As a member of the Inserm unit "physiopathology and epidemiology of respiratory insufficiency", Christine Clerici's research activities are focused on the mechanisms involved in the resorption of pulmonary lesional oedemas, particularly in in vitro and in vivo models of acute respiratory distress syndrome.
First elected to the Board of Directors of Paris Diderot in 2005, she then served as "health" delegate to the President and as Paris Diderot's delegate to Inserm from 2009 to 2011. Then, in March 2012, she was elected Vice President of the Board of Directors.
In October 2013, she was appointed provisional administrator of Université Paris Diderot and then elected President on 5 May 2014. She was re-elected for a second term on May 7, 2018.
On 20 June 2018, she was elected President of the Coordination of French Intensive Research Universities (CURIF).
Clarisse Berthezène, vice-president executive board
Clarisse Berthezène is Professor of British History at the UFR Études Anglophones and Deputy Director of the Laboratoire de Recherches sur les Cultures Anglophones (LARCA UMR 8225 Paris Diderot – CNRS). Her research focuses on the history of British conservatism in the 19th and 20th centuries and more recently on social welfare and the role of women and families in its development from the end of the 19th century to the present day.
Last March, she obtained European Cost (European Cooperation for Science and Technology) funding for the project "Who Cares in Europe? "project, which brings together researchers from 27 European countries on the issue of social protection, the role of the government, the voluntary sector and families. She has previously held various positions within the laboratory, the scientific council of her UFR, and the CNU office. In 2017-2018, she served as Attaché for Scientific and Academic Cooperation at the French Embassy in London.
Édouard Kaminski, vice-president Research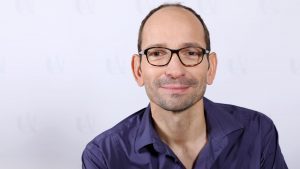 Édouard Kaminski is Professor of Geophysics at the Institut de Physique du Globe de Paris (IPGP) and teaches at the UFR Sciences de la Terre, de l'Environnement et des Planètes (STEP). Specialized in geological fluid mechanics, he studies the dynamics of planetary mantle and the functioning of volcanoes. From 2010 to 2016, he was Deputy Director of the IPGP and Director of the UFR STEP. Since November 2018, he has been vice-president of the USPC COMUE in charge of piloting the IdEx Université de Paris.
Philippe Roussel Galle, vice-president Training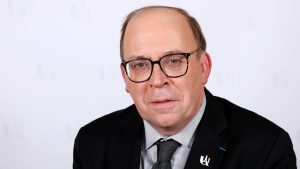 Philippe Roussel Galle is Professor of Private Law at the Faculty of Law, Economics and Management and member of the Centre for Business Law and Management (CEDAG EA 1516). His research focuses on insolvency law, business law and OHADA (Organisation for the Harmonisation of Business Law in Africa) law. He teaches the law of corporations in difficulty in domestic and European law and its interaction with other areas, such as security law in particular.
Emylie Lentzner, vice-president Student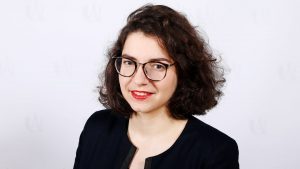 Emylie Lentzner is a fourth-year medical student. First vice-president of the French National Association of Medical Students in 2017, she has been elected titular member of the training and university life commission at Université Paris Diderot since 2018, as well as of the disciplinary commission and the pedagogical subcommission. She has held the position of Vice President Student at Université Paris Diderot since March 2018
Vice-Presidents appointed as of 1 January 2020
Charles-Edouard Levillain, vice-president, international strategy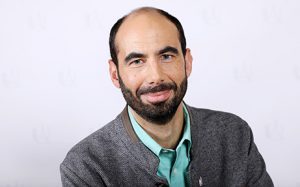 Charles-Edouard Levillain is a professor of British history. After his PhD, he frequents King's College London, the Netherlands Institute of Advanced Studies, Yale University (James Osborne Fellow), Churchill College Cambridge, Casa de Velázquez, and joined Paris Diderot in 2012. He was elected Fellow of the Royal Historical Society in 2016. He was awarded a Humboldt Foundation Fellowship in 2017-18 and holds a position at the University of Heidelberg. In the spring of 2018, he is Visiting Fellow at New College, Oxford. His research work at the Laboratory for Research on Anglophone Cultures (LARCA UMR 8225) focuses mainly on the history of Anglo-Dutch relations during the reign of the late Stuarts. He is the author of several books on Louis XIV, the first of which, Vaincre Louis XIV (2010), was awarded the Prix Guizot of the Académie Française in 2011.
He will be involved in the life of the component in 2018 by assisting Jean-Marie Fournier. Member of the academic senate of Université de Paris, he directs the UFR English studies until December 31, 2019.
Maria Pereira da Costa, vice-president human resources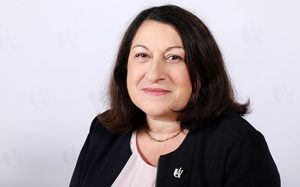 Maria Pereira Da Costa is Professor of Differential Psychology at the Institute of Psychology and member of the Laboratory of Applied Psychology and Ergonomics (LAPEA, UMR T_7708). Her research focuses on children with high potential. After having been Director of the Bachelor of Psychology and Deputy Director of the UFR of Psychology, she was elected Vice-President of Paris Descartes in 2013 and re-elected in 2015 for a second term. She was appointed provisional administrator of Paris Descartes from September to December 2019. Since December 2019, she has represented France in the EFPA (European Federation of Psychologists Associations) as a representative of the FFPP (French Federation of Psychologists and Psychology).
Mireille Fouquet, vice-president student and campus life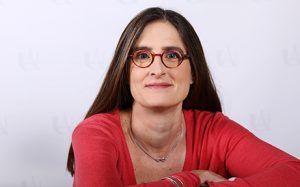 Mireille Fouquet is a lecturer and teaches at the UFR of mathematics. Member of the IMJ-PRG, Number theory team, she is interested in elliptic curves and their applications in cryptography. She was president of the pedagogical commission from 2012 to 2014, in charge of Interactions with high schools from 2016 to the end of 2019 and vice-president in charge of Student Life from 2017 to the end of 2019 at Université Paris Diderot.
Damien Marchal, vice-president Valorisation, in charge of the economic transfer of research and industrial partnerships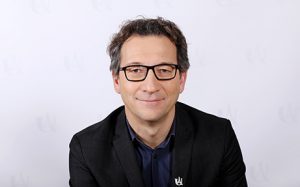 Damien Marchal is professor of chemistry and member of the Molecular Electrochemistry Laboratory (UMR CNRS 7591). He is developing a research theme in the field of analytical electrochemistry, some of which has led to the creation of the Easy Life Science startup. In November 2014, he was appointed Vice President of Relations with the Socio-Economic and Health World at Université Paris Diderot. In charge of supporting the development of continuing and professional training, promoting contractual relations between laboratories and industry, and developing fundraising through sponsorship, he has more recently launched the Alumni action.
Séverine Leidwanger, vice-présidente finance and monitoring contracts of objectives and methods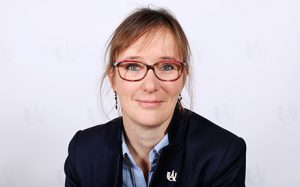 Séverine Leidwanger is a lecturer and teaches at the UFR of mathematics. Member of the IMJ-PRG, Groups, Representations and geometry team, she is interested in Lie super algebras. She has been in charge of teacher training from kindergarten to higher education for Paris Diderot and the COMUE Sorbonne Paris Cité from 2012 to 2016, president of the average finance commission from 2016 to 2018, and vice-president CFVU from 2018 to the end of 2019 at Université Paris Diderot.
Xavier Coumoul, vice-président scientific culture and outreach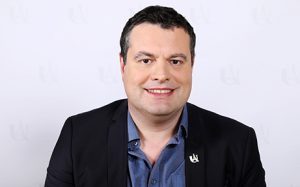 Xavier Coumoul is professor of biochemistry and toxicology and teaches mainly at the UFR fundamental and biomedical sciences. He directs the Toxicology-Ecotoxicology department and is particularly interested in pedagogical innovations. His research expertise focuses on the influence of environmental pollutants, mainly in the form of mixtures, on the development of chronic diseases (cancers, hepatic fibrosis, neurodegenerative diseases). He has participated in numerous scientific expertises in the field of toxicology, notably for INSERM (pesticides) and food.
Anne Vanet, vice-president digital and open science
Anne Vanet is professor of molecular and computational biology at the UFR Science du Vivant. Head of the geno-informatics pole of the Institut Jacques Monod since 2015, she is specialized in bioinformatics and drug design, and research of new drugs against HIV and flu. She was head of the department of innovative pedagogy at Université Paris Diderot. In 2014, she was appointed vice president of information systems and digital. She pilots a joint MESRI/CURIF project around open science.
Antoine Tesnière, vice-president pedagogical innovation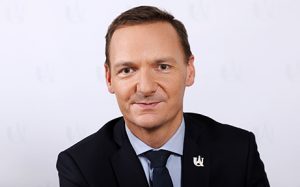 Antoine Tesniere is professor of medicine and practices as a resuscitation anaesthetist at the Georges Pompidou European Hospital, AP-HP. His research activities focus on novel mouse and human mechanisms of anti-tumor immunotherapy in numerous tumor models. He heads the iLumens department of Paris Descartes, which he co-founded, an innovative health simulation department that develops training and research approaches based on numerical and simulation uses. He is Health Advisor at the Ministry of Higher Education, Research and Innovation. He leads the training axis of the health system transformation strategy co-ported by the Ministries of health and solidarity and of higher education, research and innovation. After participating in the drafting and review of the Law #MaSanté 2022, he ensures the implementation of these measures with all the institutional actors involved.
David Calmels, Vice-President continuing education
David Calmels is a graduate in Economics and Management and has spent his entire academic career in the IUTs. First, from 2010 to 2016 at the IUT of Saint-Denis (Sorbonne university Paris nord) and then from 2016 at the IUT of Paris Descartes. There he teaches general economics in DUT and professional bachelor's degree. He is co-author of an economics textbook intended for students of the DUT Techniques de commercialisation et Gestion des Entreprises et des Administrations. He has contributed to the creation of an international semester in english for foreign students and has developed partnerships with the professional and associative fabric. Finally, he participated in the development of continuing education within the Management Economics and Administration department by creating dedicated groups for the professional bachelor's degree.