As the world recovers from the challenges of the global pandemic, President Christine Clerici and Antoine Cazé, Vice President International Relations, after nearly two years without international missions, made a visit to Singapore to renew and sign three partnership agreements. These agreements were signed with Professor TAN Eng Chye, President of the National University of Singapore (NUS) in the presence of the French Ambassador to the Republic of Singapore, H.E. Marc Abensour. The visit was organised in partnership with Sciences Po which shares with UPCité and Inalco, a branch in Singapore.
Christine Clerici, President, Université Paris Cité, S.E. Marc Abensour, Ambassador of France in Singapore and Professor TAN Eng Chye, Preésident of the National University of Singapore (left to right)
The cooperation with Singapore, implemented in 2013 by Sorbonne Paris Cité (USPC) partners, has provided Université Paris Cité the opportunity to establish close ties with NUS in several academic disciplines. In December 2020, the first MOU between NUS-UPCité was signed remotely with the goal of fostering international research collaborations in academic fields of mutual interest.
This new visit was an opportunity to reaffirm the strategic partnership between the institutions and to renew the agreements that cover three areas of cooperation:
between the Faculty of Health of Université Paris-Cité and the Yong Loo Lin School of Medicine of NUS which renews the student mobility agreement previously signed with Université Paris Descartes
between Université Paris-Cité and the NUS Graduate School with a new agreement facilitating doctoral mobility
an agreement to host the Singapore branch of NUS College and participate in the development of the new NUS Global Experience Paris (GEx Paris) programme
"NUS is a strategic partner of UPCité at the international level, and I welcome the willingness of the two universities to strengthen their collaboration through the signing of these agreements, which cover both research and education." says Christine Clerici.
This partnership benefits from a strong commitment from NUS which co-finances these projects with the objective of continuing this relationship with Université Paris Cité and its privileged partners (Sciences Po and Inalco) through key projects in the field of research and education.
Both partners have expressed the wish to strengthen student exchanges, in particular by expanding the pool of students likely to go to Singapore on an exchange programme.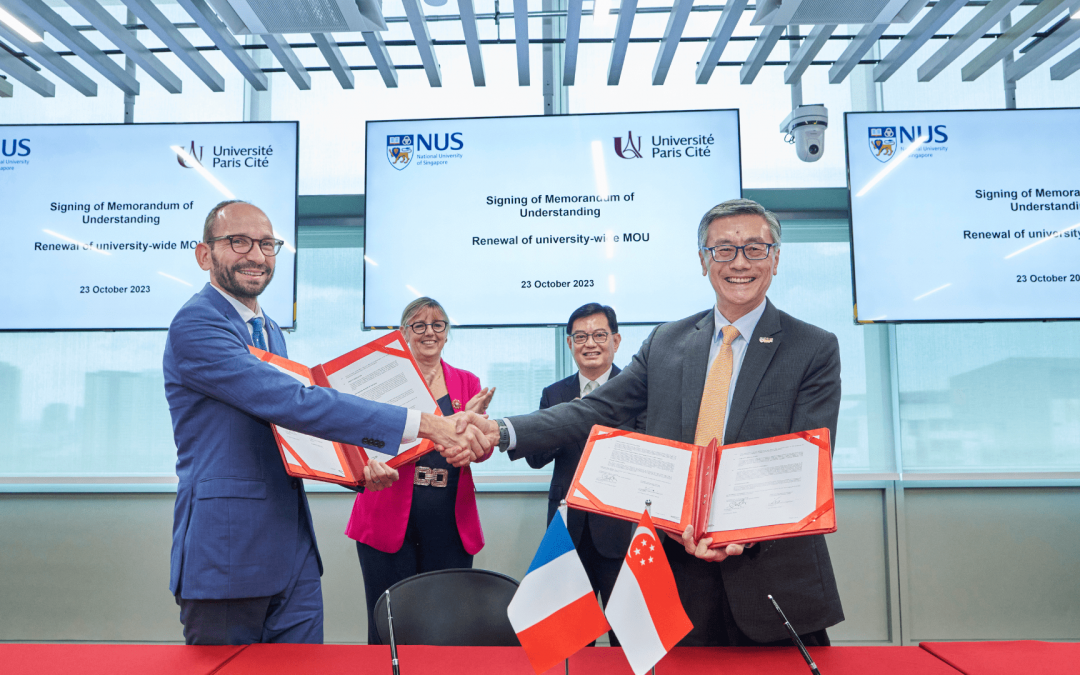 On October 23, 2023, President Édouard Kaminski and his National University of Singapore (NUS) counterpart Tan Eng Chye signed a partnership agreement to develop joint research and events in the field of women's health. Left to right: Édouard Kaminski (President...
read more