National University of Singapore, a strategic partner in Asia
Université Paris Cité and the National University of Singapore (NUS) have established a close cooperation since 2014 through the Sorbonne Paris Cité (USPC) alliance. Since 2020, three partnership agreements have been signed with NUS enabling Université Paris Cité to strengthen its presence in Singapore, a major hub in the Indo-Pacific region. The Singapore regional office is supported by Université Paris Cité, Sciences Po and Inalco, and co-funded by IdEx (Initiative of excellence).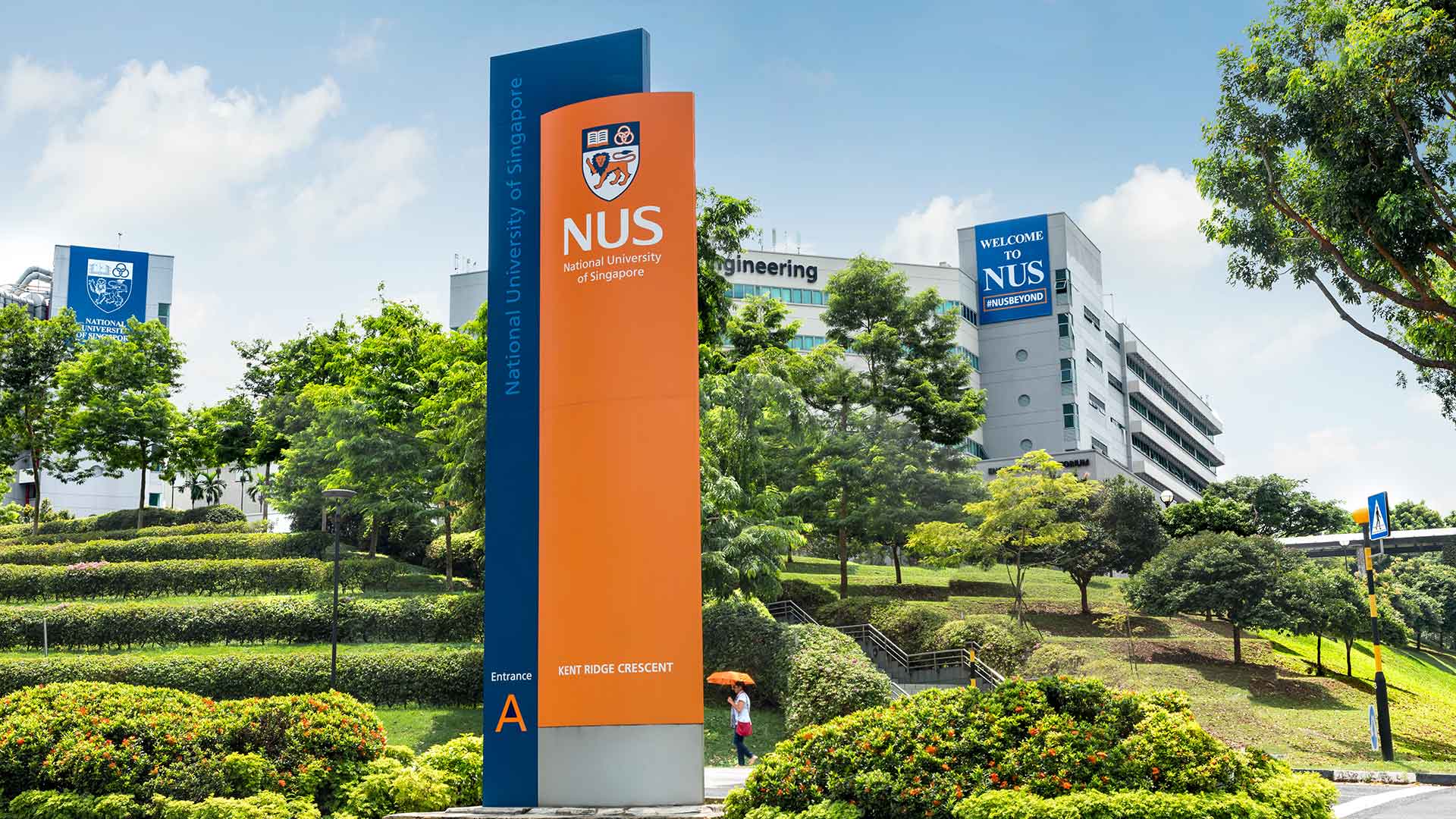 Research and Education through Mobility Opportunities
The partnership offers unique research and educational opportunities for student mobility, particularly between Université's Faculty of Health and NUS's Yong Loo Lin School of Medicine. These two faculties have set up full-year exchanges, enabling third-year UParis Cité students to immerse themselves in the NUS Medicine curriculum and carry out clinical rotations in Singapore hospitals.
In addition, an agreement signed with NUS Graduate School facilitates doctoral mobility in all disciplines between the two institutions. Since the beginning of this collaboration, ten doctoral students have been able to benefit from funding to carry out a mobility programme at NUS or UPCité.
Promoting large-scale International Collaborations
Through annual joint calls for projects, the partnership benefits from a strong commitment from NUS, who cofunds the initiatives. The calls provide researchers and faculty members from both institutions the opportunity to develop research and education collaborations. Around 35 projects were funded between Université Parus Cité and NUS across all disciplines, such as a project examining the link between autophagy and brain ageing, led by Professors Franck Oury from Université Paris Cité and Shazib Pervaiz from NUS. This project received additional funding from Inserm as part of the "Interaging" initiative. The creation of the MOOC "Governing Diverse Cities", available on the edX platform (MIT/Harvard) since September 2022 was also developed through the partnership.
Committed to Women's Health
In 2023, Université Paris Cité and NUS embarked on an innovative partnership focusing on women's health. The two institutions organised a conference, held in Djerba, Tunisia called "Prevention and Early Detection of Non-communicable diseases: A Game Changer in Women's Health" demonstrating their commitment to these issues. More recently, in October 2023, the presidents of Université Paris Cité and NUS formalised a strategic partnership between NUS's Global Centre for Asian Women's Health (GloW) and the Institut hors murs de la Santé des Femmes (Faculty of Health, UParis Cité). This milestone event took place in the presence of the French Minister for Higher Education and Research and the Deputy Prime Minister of Singapore. The agreement encompasses research, education and awareness-raising initiatives in this crucial field.
GEx : An immersive experience in Paris
Université Paris Cité is also a partner of NUS through the Global Experience Paris (GEx Paris). GEx Paris is a course offered by NUS College. NUS students discover Paris and France through the themes of arts, culture, diplomacy and social innovation. GEx Paris provides an opportunity for students to attend lectures by renowned academics and masterclasses with leading figures in the course areas. Students interact with their counterparts in the host country, visit iconic sites and discover Paris through cultural outings during the summer.
The GEx is coordinated by the department of English Studies at the Faculty of Humanities and Social Sciences. The programme is led by Professors Martine Beugnet, Ariane Hudelet and Éliane de Larminat.  As part of this collaboration, Université Paris Cité provides a course on the visual arts and the representation of Paris through cinema, photography and TV shows. Université Paris Cité's students from the Cultural Intelligence and Innovation Masters (MIIC) engage with their peers at NUS creating a cultural mediation tour in a Parisian neighbourhood.
About NUS

The National University of Singapore (NUS) is Singapore's flagship university, offering a holistic approach to education, research and entrepreneurship, with an emphasis on Asian perspectives and expertise. The university has 17 faculties across three campuses in Singapore, as well as 15 NUS Overseas Colleges worldwide. Nearly 40,000 students from 100 countries enrich the dynamic and diverse campus community. It is ranked 1st in Asia and 8th in the world.
For more information

Faculties and NUS


Contact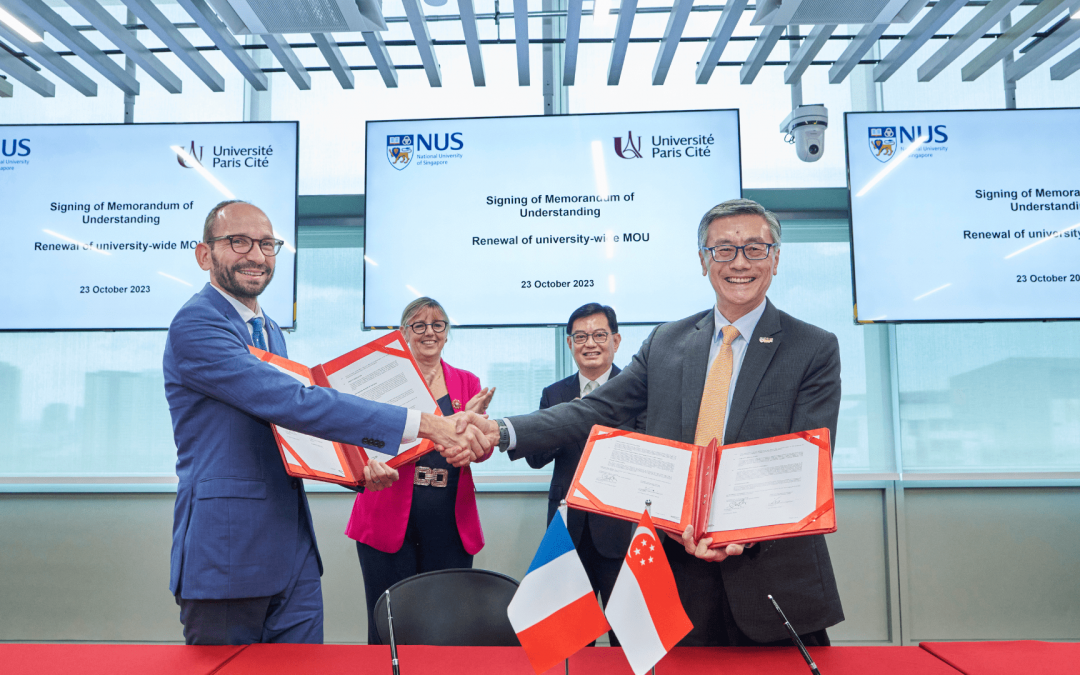 On October 23, 2023, President Édouard Kaminski and his National University of Singapore (NUS) counterpart Tan Eng Chye signed a partnership agreement to develop joint research and events in the field of women's health. Left to right: Édouard Kaminski (President...
read more